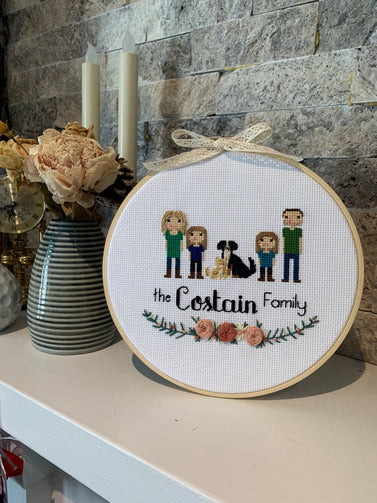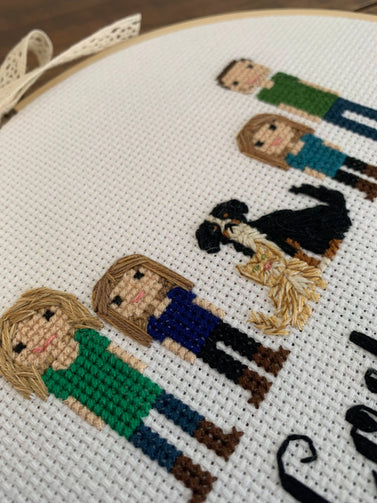 Custom portraits (6 characters)
Custom portraits (6 characters)
Regular price

$112.00 USD

Regular price

Sale price

$112.00 USD
Tax included.
Custom portraits make such great gifts!  Order yours today!
Portraits will be finished on a 6 or 8inch wood hoop depending on the number of characters.
Each portrait includes:
- 6 characters (adult, child or animal)
- a small line of text (Our Family; The Fujarczuk's; Our house; etc...) 
- small floral details
Want a little more?  No problem at all!  Send me an email before ordering. I'm happy to customize these even more for you!
After placing your order you will receive an email from me requesting photos of the characters for reference as well as a bit of additional information.  Once I am done creating the pattern I will send it to you for approval before stitching the final piece (you only get ONE edit).  
Please allow for 6-8 weeks for this item to be handmade and shipped out to you.
--
Ces portraits font d'excellents cadeaux!  Commandez le vôtre dès aujourd'hui.
Les portraits sont finis dans un cerceau en bois de 6 ou 8 pouces tout dépendant du nombre de personnage inclue. 
Chaque portrait comprend:
- 6 personnages (adulte, enfant ou animal)
- une ligne de texte de votre choix (Notre famille, Les Fujarczuk, Bienvenue chez nous, etc…)
- Un détail floral
Voulez-vous quelque chose de diffèrent?  Pas de trouble!  Envoyez-moi un courriel avant de passer votre commande pour m'en parler.  Il me ferait plaisir de discuter avec vous et de concrétiser vos idées.
Après avoir reçu votre commande je vous contacterai pour vous demander de m'envoyer des photos ainsi que de l'information supplémentaire sur les personnages inclue dans votre portrait.  Après avoir reçu tout ceci je pourrais commencer à dessiner votre portrait.  Une fois terminée je vous en enverrai une copie par courriel pour accord.  Vous pourrez à ce moment me demander des faire de modification au besoin.   Une fois que le dessin sera approuvé je commencerai à broder votre portrait.
Il faut compter entre 6 à 8 semaines pour que ce portrait soit brodé et puis posté.  Je serai en contact avec vous dès que votre portrait sera mis à la poste ou prêt à être livrer.
Couldn't load pickup availability